Our staff are carefully selected for their genuine natural warmth towards young children and their passion for delivering high quality Early Years education.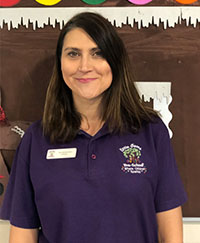 Mrs Gemma Akins
Owner
Diploma, Advanced Practitioner level 4
Mrs Lorena Boyes

Manager & Safeguarding
NNEB, SEN training

Mrs Renata Allen

Deputy Manager and Safeguarding
NVQ L 3, Advanced Practitioner level 4
Mrs Kelly Light

Admin, Safeguarding and Training Co-ordinator/Practitioner
BA (hons) Primary Ed specialist –Early Years

Mrs Lisa Parker

Practitioner & SENCO
NVQ level 3, SEN training
Mrs Leah Drake

Practitioner & Health and Safety
NVQ level 3

Mrs Jessica Evans

Practitioner
Miss Abbie Kenway

BA (hons) Early Childhood Studies

Mrs Hannah Hurst

Level 5 Practitioner- Foundation Degree in Childhood studies/ trainee Elsa

Mrs Shona Shiner

Level 3 Practitioner
All our staff have a commitment to further develop their knowledge and training is ongoing with some staff having specialist training in SEN and other areas.
All staff are DBS checked and references sought before recruitment. The owner/manager, Mrs Gemma Akins has completed safer recruitment training and is responsible for recruitment decisions. All our staff have completed at least full level 3 safe guarding training.
At least half our staff are qualified first aiders.
Our setting SENCO's are Mrs Lisa Parker and Mrs Lorena Boyes who regularly update their training.
Chandlers Ford

Phone: 07543 523387
littlegemscf@gmail.com

Fryern Infant School
Oakmount Road
Chandlers Ford
Southampton
SO53 2LN

Hedge End

Hedge End

Southampton

SO30 2TL